Web design service chennai - Chennai
Saturday, 23 March 2013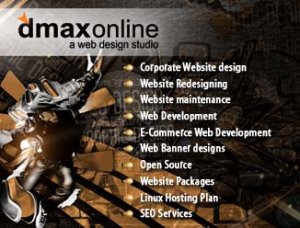 Item details
City:
Chennai, Tamil Nadu
Contacts

dmaxonline
Item description
Dmaxonline offers a wide array of services such as professional web site design, web site maintenance, web hosting, graphics design, Product Presentation and other small business services such as logo and banner design.
We provide the most affordable website designs that bedazzle you with its stunning look and mind blowing designs. Dmaxonline specialized in providing best-in-class Web Design and Development Services, which covers Web Designing, Web Development, e-Commerce Solutions, Search Engine Optimization (SEO), Web Hosting Services, Domain Registration, Professional content writing and Shopping cart Builders. Dmaxonline is backed by an integrated team of web consultants, creative designers, content writers, programmers and marketing professionals.
Web designing is the most critical part in the building of a website because it has the power to keep the viewer's engrossed and make them continue browsing through the site. It means a lot as it is one of the factors that decide whether a visitor stays or leaves the site. With our massive experience, our company team can tackle any kind of web projects in a structured manner, so that you are satisfied, right from the beginning. We offer a greater sense of flexibility and agility towards any project. We perform extensive research before undertaking any project and will ensure that nothing but the best technology is used to achieve your goals. Our utmost priority is to create a website that has a visual impact and communicates with its audience.