Jains Pebble Brook with all Amenities and Features at Thoraipakkam, OMR, Chennai - Chennai
Wednesday, 3 July 2013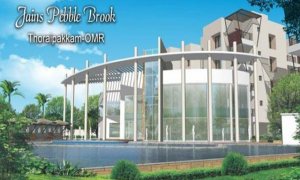 Item details
City:
Chennai, Tamil Nadu
Contacts

sabarisan_s
Item description
Jains Pebble Brook Thoraipakkam OMR is the most elite 1bhk, 2bhk and 3bhk apartment/flats for sale in Thoraipakkam OMR. Jains Pebble Brook is one of the ongoing projects on Jain housing. Jain housing designers were designed Jain's pebble brook with a world class excellence.

Jains pebble broom which comprises of a single block and 620 residences. Jains pebble brook Thuraipakkam has been designed with a elegance architecture and refreshing scenic beauty with an enviable package of ultra-modern, high-tech comforts and superior features designed which make our life luxurious. And Jains Pebble brook is one of better apartment in Thuraipakkam.

Jain housing customer support and developers were giving wonderful services to their customer for choosing and designing our dream home like Jains pebble brook.

Jains pebble brook having wonderful amenities like:

•Landscaped pathway will be provided for the entire stretch, which will enhance the appearance of the main entrance to the apartment.
•The entrance pathway to the apartment lobbies will be paved with natural pavers.
•Ground floor lobby will be of marble/granite flooring.
•Recreational area
•Health club & gymnasium
•Children's play area
•Swimming pool

Common Amenities:

•An overhead tank of required capacity will be provided for bore well and metro water.
•Deep bore wells will be provided. The depth will be decided by us based on the yield.
•One lift/core of Johnson/OTIS or equivalent make will be provided.
•Sump of required capacity for water will be provided.
•Standby generator backup will be provided for essential points in common areas and minimum essential points inside the apartments.