Outstanding Quality, Excellent Pedigree GERMAN SHEPHERD Puppies Female/Male@9830 - Chennai
Thursday, 28 November 2013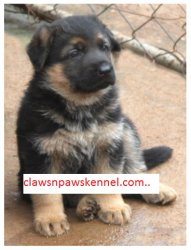 Item details
City:
Chennai, Tamil Nadu
Contacts

sangeeta banerjee

9830064171
Item description
CLAWSNPAWSKENNEL have all types of Indian and Imported including birds, kittens and dogs with all import documents. We've lot of breeds available just call once at 9830064171 for detail and original pics.
Puppies available like– Labrador, German Shepherd, golden retriever, boxer, Doberman, English Mastiff, Bull Mastiff, Neopolitan Mastiff, Tibetan Mastiff, French Mastiff, Great Dane, Saint Bernard, Rottweiler, Dalmatian, Dachshund, Samoyed, Sberian husky, Irish Setter, chow chow, Grey Hound, German Spitz, Pomeranian, Culture Pom, Lhasa Apso, Shih Tzu, Pug, beagle, Cocker Spaniels, chihuahua, Poodle, Maltese, Pekingese , French Bulldogs, Yorkshire terrier etc.
Kittens like Siamese, Himalayan, Persian, bengal etc.
Birds like African grey parrot, amazon, Australian king parrot, cocatails, cockatoos, cremson red rossela, electus parrot, lorries, love birds, macaw, parakeets, rosellas, sun conure etc.