Chennai Tech Park - Chennai
Tuesday, 8 April 2014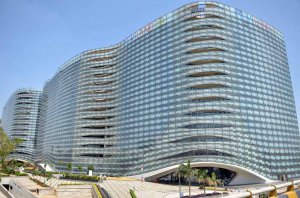 Item details
City:
Chennai, Tamil Nadu
Contacts

Anna Durai

+91 9962003799
Item description
The Ambattur is located North West of Chennai and Ambattur Industrial Estate is oldest established Industrial estate in Chennai. Present IT revolution has utilized the momentum to gain the land cost as well as to establish large floor plates to create dynamic landmark. So India Land also out of that idea to create landmark in Chennai with best infrastructures. The property is exactly located on the 3rd Main road of Ambattur Industrial Estate, beside the Chennai – Kolkata elevated highway. The Property admeasures 8.98 Acres with the leasable area of 2 Million Sq ft. The building categorically defined in three towers of Tower - A, Tower - B and Tower - C. The "Tower A" fully occupied by single tenant and Tower B with multi tenants and Tower C is ready to be occupied on floor wise. The Building has "Gold" certificate by USGBC. In order to cater the convenience of occupants the parking is at 3 levels of Basements from where they will access to concern floors. India Land gives excellent dining experience in their Food court which has Multi cuisines of wide variety of diner's choice. And moreover retail with ATM centers, Florist, Mini Super Market, Men's Apparel, day care center adds value to the occupant. The Main entry is on west side and exit on east side direction for free flow of traffic movement. The neighborhood of India Land Tech Park is Dell, ESAB, WABCO and ICICI Head office. Our rate is Rs 29/sq.ft for an warm shell space of 20,000 sft and above
For more info Visit : httpwww.indialand.net/chennai-it-park/about-project/
Contact : +91 9962003799.