Smartwaytravels Mysore Car Rentals Coorg Ooty kabini Nagarahole Packages Taxi - Chennai
Thursday, 21 August 2014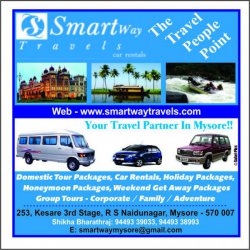 Item details
City:
Chennai, Tamil Nadu
Contacts

shikhabharathraj

9449339033
Item description
Mysore Coorg Car Rentals SMARTWAY TRAVELS 9449339033​

Travels In MYsore

Smartway Travels
32,12th cross near mahadeshwara Temple O.D.Block

RajendraNagar

Mysore - 570007

Contact Number : 9449339033,9449338993

Contact Name: Shikha Bharath Raj

Website; www.Smartwaytravels.com

Email Id: Hotel Lalith Ashok Bangalore, Award was Given On
13th oct.2012 By mr.Kris Shrikanth The Ex Cricket Player Of
Team India.




Established in 2007 at Mysore, Smartway Travels is a leading Tour and Travel services providers. Our offered services are Tours and Travel, Car Rental Services, Travel Packages, Taxi Service and Jungle Saffaris. These services are highly appreciated by our clients for their cost effectiveness, customer oriented approach, promptness, reliability and safety. We always strive hard to maintain amiable association with our valuable clients and provide them an incredible and pleasant traveling experience. Moreover, we maintain transparency in dealing and ethical policy while offering tour and travel services to the clients. As a renowned tour and travel service provider in Mysore, we always strive hard to meet all the requirements of our clients and offer them an unsurpassed range of services. We understand that each customer has its own specific needs and requirements therefore we provide them a customized range of solution. Our highly skilled professionals ensure that our tour and travel services are offered by keeping in mind the security and safety of our clients. Apart from this, we offer our holiday package services and travel services within stipulated time frame.


Our Team:


Smartway Travels is backed by highly enthusiastic and skilled professionals who always strive hard to provide qualitative tour and travel solutions to our clients. We appoint our professionals very carefully and encouraged them to work hard for the rapid growth. They work in close coordination with our valuable clients to comprehend their rental and holiday needs and accordingly work to fulfill those needs. Due to their diligent and continuous efforts today we have become one of the best tour and travel service providers in Mysore.


Our Strength:


We have achieved top notch position in the market by offering optimum quality tour and travel solutions at highly affordable prices. While offering these solutions, we give top priority to fulfill the luxurious and lofty desires of our clients. Our highly qualified professionals pay proper attention to safety and security during the travel of our clients. Some other factors that make us to be the preferred choice of our clients are as follows:


•Highly experienced team
•Customized solutions
•Comfortable and Leisure Services at reasonable prices
•Safe and secure journey

Tourpackages



SL.NO No. of Days Destinations
1. 4N/5D Mysore - Ooty
2. 4N/5D Mysore - Coorg
3. 4N/5D Bangalore - Mysore - Ooty
4. 4N/5D Bangalore - Mysore - Coorg
5. 4N/5D Bangalore - Mysore - Wayanad
6. 5N/6D Bangalore - Mysore - Ooty
7. 5N/6D Bangalore - Mysore - Coorg
8. 5N/6D Mysore - Ooty - Kodai
9. 5N/6D Mysore - Oooty - Coorg
10. 5N/6D Mysore - Coorg - Wayanad
11. 6N/7D Bangalore - Mysore - Ooty
12. 6N/7D Bangalore - Mysore - Ooty - Kodai
13. 6N/7D Mysore - Ooty - Kodai
14. 6N/7D Bangalore - Mysore - Coorg - Ooty
15. 6N/7D Mysore - Coorg - Ooty
16. 6N/7D Mysore - Coorg - Wayanad
17. 6N/7D Bangalore - Mysore - Coorg - Wayanad





9449339033
9449338993
Copyright © Smart Way Travels- All rights reserved - Car Rentals in Mysore, Car Rentals Mysore, Hire Car in Mysore, Hire Taxi in Mysore, Mysore Car Hire, Mysore Car Rental, Mysore Taxi, Travel Agent in Mysore, Tour operators, Car Rental in Mysore
Smartway Travels Offers Corporate CabsServices, Tourist Travels, Buses, Best Car Rentals Services, Car Rentals in Bangalore, Car Rentals in India, Outstation Trips, Local Trips, Cab Rentals in Bangalore, Wedding Car Hire, Airport Pick & Drop, Budget Cars, Luxury Cars, Premium Cars, Non BudgetCars, Luxury Cars Rentals, Premium Car Rentals, Pick Up And Drop, TaxiServices, Cabs Services, Easy Cabs, Meru Cabs, Rent A Cabs, Premium Car AirportTaxi Hire, Car Hire in India, Xylo Cab, Xylo Car Rental, Xylo Cab, Xylo CarRentals, Xylo Hire Cab, Indica Cab, Indica Car Rental, Indigo Cab, Indigo CarRentals, Innova Hire Cab, Innova Taxi, Innova Airport Transfer, Tempo TravelerHire Cab, Tempo Traveler Taxi, Tempo Traveler Airport Transfer, Tempo Travelerfor Outstation Trip, Innova for Outstation Trip, Indica for Outstation Trip, Trips 2 Mysore, Trips 2 Ooty, Trips 2 Kodaikanal, Trips 2 Kerala, Trips 2Wayanad, Trips 2 Coorg, Taxi 2 Mysore, Taxi 2 Ooty, Taxi 2 Kodaikanal, Taxi 2Kerala, Taxi 2 Wayanad, Taxi 2 Coorg, Cab to Mysore, Cab to Ooty, Cab toKodaikanal, Cab Kerala, Cab Wayanad, Cab to Coorg, Travel to Mysore, Travel toOoty, Travel to Kodaikanal, Travel to Kerala, Travel to Wayanad, Travel toCoorg, Sure Taxi, Soon Taxi, i Taxi, I cab, sure cab, your cab, cab for you, Chauffeur cab, chauffeur, Ford Indigo, Swift Dzire, Toyota Etios, Ford Fiesta, Hyundai Verna, Tavera, Xylo, Innova Single A/c, Innova Dual A/c, Tempo Traveler, Luxury Car & Coaches Like: - City Honda, Skoda, Toyota Corolla, Toyota Camry, Swaraj Mazda - 18 Seater, Mini Bus - 21 Seater, Luxury Bus - 32 Seater, VolvoBus / Mercedes Bus - 45 Seater, Volvo Multi Axle Bus - 53 Seater. Taxi forSure, Soon Taxi, Local Use Taxi, Bangalore Taxi, Bangalore Cab, Bangalore LocalTaxi,
Coorg | Kodagu | Coorg Home Stay | Coorg Estate Stay | Coorg Cottages | Madikeri | Kushalnagar | Virajpet | Gonicoppa | Bagamandala | Talacauvery | Talakaveri | Village Stay | Pandhicurry | Dumplings | Brahmagiri | Pushpagiri | Thadiyandamol | Nisargadama | Raja Seat | River | Cauvery| Travel | Around Coorg | Taxi Service | Honeymoon Stay | Sight Seeing Trips | Tour | Tourism | Travel | Hotel & Resort Booking| Home Stay Booking | South India | Plantation Stay | Estate Stay | Trekking | Angling | River Crossing | Rafting | Camp Fire | Long Walks | River | Plantation Walk | Group Accommodation | Coffee | Mountains | Hills | Coffee Estate| | Brahmagiri | Nalknad Palace | Abbey Falls | Omkareshwara Temple | Corporate Team Building Training camps | Tibetan Camp | Travel Packages.