1 week internship for student | java | dot net | cloud computing | data mining - Chennai
Saturday, 26 November 2016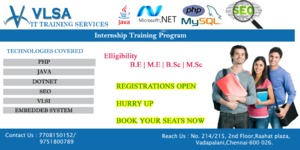 Item details
City:
Chennai, Tamil Nadu
Contacts

aswinvlsa09@gmail.com

7299066331
Item description
Join Internship and In- Plant Training Get the 50% courses offers only limited seats
Dear Students
Thanks for visit internship classes
Best offers for IPT classes
BEST INTERNSHIP / IN-PLANT TRAINING IN CHENNAI 2016 - 2017
DOMAINS OFFERS
1.CLOUD COMPUTING
2.DATA MINING
3.NETWORKING
4.ROBOTICS
5.RASPBERRY PI
6.ARDUINO
7.WEB SERVICES
8.LINUX BASIC COMMANDS
TECHNICAL INTERNSHIP
BE , BTECH , MCA , MSC , BCA , BSC , BE CSC , IT OFFERS
5 Days IPT Training : Rs.1000/- Only
DOMAIN: .NET , JAVA , PHP , Embeddded System , VLSI , Matlab, IOT ...
Time : 10.00 Am to 12.00 Pm - Embeddded System , VLSI , Matlab, IOT , Robotics ...
Time : 12.00 Pm to 2.00 Pm - .NET , JAVA , PHP , Web Design ..(Cloud Computing , Datamining , Networking )
Notes:
Training program is absolutely practical.
I. Professional Certificates (1. Internship Certificate 2. Project Completion Certificate & 3.InPlat Training Certificate) will be awarded at the end of the training program.

II.FREE placement training (Aptitude, GD, HR Interview) is also provided.
III. Everyday a new batch is started so the students can come and join in any day in the month of May (or) June (or) July according to their convenience.
IV.Our Company will be working on all 7 days of the week. (including Saturdays and Sundays).