Silk saress - Chennai
Thursday, 17 August 2017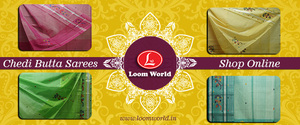 Item details
City:
Chennai, Tamil Nadu
Contacts

loomworld
Item description

www.loomworld.in

To Offer additional marketing support to weaver'sCo-operative Societies, Special type & Showrooms under the brand name LoomWorld have been started across the State of Tamil Nadu.

LoomWorld, Anna Nagar was started is 2000, as the first Sales outlet of Loom WorldChain of stores, by renaming and re-orienting the Tamil Nadu Handloom CoopMarketing Complex which was originally established during 1994. The objectiveof creating Loom World is to have a common brand name to facilitate marketingof the products produced by the Weavers Cooperative Societies under theadministrative control of the Department of Handlooms and Textiles, Governmentof Tamil Nadu and also to play supplementary role to Societies' own outles.

LoomWorld Showrooms are functioning at Chennai, Coimbatore, Madurai, Trichy, Dharmapuri, Kancheepuram and Erode to propularize the "Loom World". Theseoutlets are helpful in liquidating the stock of Primary Handloom Weavers Societiesto a considerable size.

Loom World functions under the guidanceand aegis of the Director of Handlooms and Textiles. The Managing Director ofTamil Nadu Handloom Development Corporation. He is the Coordinator. Silk andCotton Weavers Coop Societies are participating members of the Loom World.