Electronic weighing scale @ best price offer in chennai - Chennai
Monday, 23 January 2012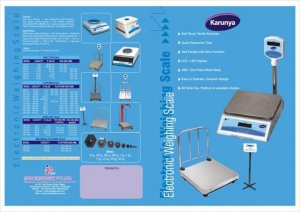 Item details
City:
Chennai, Tamil Nadu
Contacts

RAJ KUMAR MS

9500122322
Item description
JUDE EQUIPMENT is a trusted Brand in providing you the world class quality weigh scales to correctly weigh your commodities.
We are a noted manufacturer, exporter and supplier of a wide range of weighing scales & measuring Instruments such as Health Scales, Personal Weighing Scale, Hospital, clinical Scales, Hanging Scales (Circular Balance), Hanging Scales (Handy Balance), Platform Scales (Electronic Type), Platform Scales (Mechanical Type), Tabletop (Electronic S.S. Type), Tabletop (Mechanical Type), Aluminum Measures, Conical Measures, Cast Iron Weight stones etc.
ELECTRONIC WEIGHING SCALE 10KG, 30KG, 50KG, 100KG, 200KG, 300KG, 500KG, 750 KG, 1 TON ets.