Training Facility at Chennai - Chennai
Thursday, 3 October 2013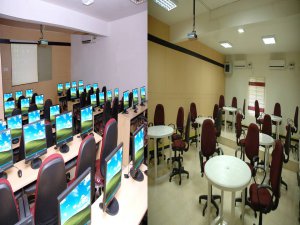 Item details
City:
Chennai, Tamil Nadu
Contacts

Coalesce

4422200730
Item description
Training Facility at Chennai
Coalesce Technologies Pvt Ltd has over 11years in Corporate Training services & Technology Consulting.
We provide Technical training, Metamorphe – The Soft skill Training, Facility management, Interview Process Consulting, Open House workshops, Webinars - Virtual Corporate Trainings.
At Coalesce we have facilities to support all types of corporate training sessions. We strive to offer our clients a well equipped and comfortable environment to suit their training needs. Our classroom facilities can be configured to meet your specific needs and capacity. Each room is equipped with high-speed internet access and digital projectors with technical staff present to support you with set up and configuration
We Provide Services globally to over 200+ Corporations spread across IT cities of India, Middle East, Singapore and US. We are Learning Partner for IT Giants like Accenture, HP, Oracle, IBM, CSC, Infosys, Wipro, and HCL etc and Non IT Companies like Ford, World Bank, Barclays, Airtel, Vodafone, IDBI, GMR, SRF, and Apollo etc.
Coalesce having offices in Chennai, Bangalore and Gurgaon and is set to grow exponentially in the coming Years.
Coalesce is one of the leading corporate companies in Gurgaon, Chennai, Bangalore and NCR New Delhi. We provide a full range of learning services–from content development to learning management–each solution is designed to meet specific client needs. Our offerings include Corporate Training in Gurgaon, Noida, NCR, Training facility in Chennai, Bangalore, Personality development training in Bangalore, Corporate training in Bangalore, Training venue in Chennai, Bangalore, Technology Webinar for corporates, Corporate workshop NCR, Noida, Soft Skill Training NCR, Bangalore, Chennai, Corporate training in Chennai and Corporate training in Hyderabad.
Our deep industry knowledge, patented learning processes and technologies and proven global delivery capabilities uniquely position Coalesce Learning to help organizations convert their learning investments into business performance. Coalesce has continuously endeavor to optimize the technology operations of the customer be it cost savings, qualitative deliverable on time, or quick response in service support.
Coalesce grows with people and technology by providing extraordinary customer service, meeting our customer's needs with our suppliers and business partners in the Learning Service Industry.